Inauguration of the National Convention of the Association of Pharmaceutical Teachers of India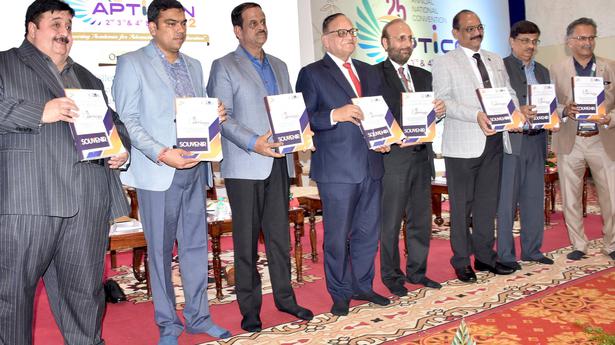 The three-day annual national convention of the Association of Pharmaceutical Teachers of India (APTI) started here on Friday and will focus on empowering academia to advance pharmacy education.
Hosted by the JSS College of Pharmacy, the goals of the convention are to create a blueprint to promote the culture of research, develop strategies on the adoption of technology in education in addition to outlining the importance of l accreditation and ranking of pharmaceutical institutions.
The convention is also expected to provide a collaborative platform for academics, researchers, scientists and pharmacy students to adopt a vision to guide the future activities of the profession.
About two thousand pharmacy professionals, students, industrialists, pharmaceutical scientists and pharmaceutical executives from different states of the country are attending the three-day event which was inaugurated by Mr. Sudarshan Jain, Secretary General of Indian Pharmaceutical Alliance (IPA ). He said such conventions will not only strengthen academia and the pharmaceutical industry, but will motivate and help pharmacy educators and students update their knowledge and skills in sync with the latest industry trends.
Milind Janrao Umekar, President of APTI, said in his presidential address that the healthcare profession is undergoing rapid change and India's pharmaceutical industry has witnessed dramatic progress.
"Ever-expanding practice areas need clinically and technologically trained pharmacy professionals who can face global challenges and compete with multinational corporations. It is in this respect that pharmacists play a leading role in ensuring optimal pharmacotherapy, by contributing to the discovery, development, manufacture, quality assurance, supply and regulatory control of drugs," Mr. Umekar said.
V. Muralidhar, organizing secretary of the event, said that pharmacy education plays a central role in preparing competent health professionals to meet the health needs of the public, and that pharmacists have a vital role to ensure the effective and responsible use of medicines. Pharmacists monitor drug use and help patients adhere to treatment regimens and use drugs responsibly, and pharmaceutical scientists can develop new drugs and treatment strategies, he added.
CG Betsurmath, Executive Secretary, JSS Mahavidyapeetha, Mysuru, addressed the gathering and highlighted the importance of the convention for the progress and advancement of the sector.
TM Pramod Kumar, Principal, JSS College of Pharmacy, Mysuru, SP Manjunath, Secretary, JSS Mahavidyapeetha, Surinder Singh, Vice Chancellor, JSS Academy of Higher Education and Research, Mysuru, Montu M. Patel, President, Pharmacy Council of India, New Delhi, B. Suresh, Pro-Chancellor, JSSAHER, Mysuru were among those present.