Indonesia to collaborate with Japan to develop pharmaceutical industry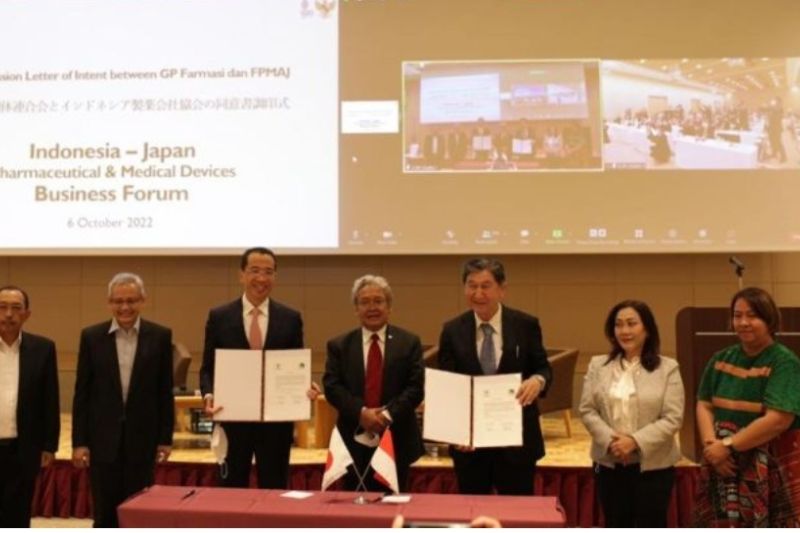 Jakarta (ANTARA) – Indonesia's Ministry of Health will work with a number of Japanese partners to develop the country's pharmaceutical and medical device industry.
"We invite Japan's partners to contribute to the development of pharmaceutical technology and medical devices in Indonesia," said the ministry's secretary general, Kunta Wibawa Dasa Nugraha, in a statement received here on Monday.
The collaboration will be carried out under the agenda of the "Indonesia-Japan Pharmaceuticals and Medical Devices Business Forum", which was held in a hybrid format in Osaka, Japan on October 6, 2022.
The forum, which brought together more than 300 participants, was launched through cooperation between the Indonesian Embassy in Tokyo, the Indonesian Consulate General in Osaka, the Chamber of Commerce and Industry of the Indonesia- Japan, the Ministry of Industry, Indonesia Investment Promotion Center (IIPC) Tokyo, Indonesian Trade Promotion Center (ITPC) Osaka, as well as several Japanese partners such as METI Kansai, FPMAJ and JETRO.
According to Nugraha, the effort was part of Indonesia's strategies to strengthen the global health architecture during its G20 presidency, especially health system performance and resilience to achieve better public health status.
Related News: Ministry supports strengthening pharmaceutical cooperation with Japan
The collaboration will target the six pillars of the national health transformation agenda, which include the national digital health platform (SatuSehat) and the genomic approach (BGSi), he noted.
"This is in line with the needs of health services, both primary and secondary, in the form of enhanced biotechnology through mastery of viral vectors, nucleic acid-based technology, recombinant proteins to produce vaccines and medicine for the people of Indonesia," he added.
Examples of products that will be produced under the cooperation include erythropoietin, insulin, monoclonal antibodies and plasma-derived products. In the pharmaceutical sector, the ministry develops six out of ten active pharmaceutical ingredients (API) at the national level.
Nugraha said he hopes the collaboration with Japan will increase exploration through technology transfer and research collaboration to increase production of medical devices, medical consumables in the country and vaccine manufacturing.
"To achieve this goal of resilience, we have established policies that cover critical steps, starting with the facilitation of clinical trials and technology transfer. On the production side, we are also giving priority to accelerating domestic production," he added.
Related News: Indonesia and Japan sign letter of intent for cooperation in pharmaceutical sector
Related news: Need to promote the concept of green pharmacy: ministry